Augmented Reality / Mattel Sponsored
Augmented Reality
Barbie Dreamhouse
︎ Personal Project ︎UX & Product Designer ︎ 2017 [May-August] ︎
︎︎︎ Children can create their own world in augmented reality and see their actions having a tangible impact on Barbie's world!
AR Opens The Possibility
Of New Play Pattern

One Example Of How Children Play
︎︎︎ Control weather by hanging props.
︎︎︎ The fully grown plants will start twinkling when they are ready to harvest.
︎︎︎ Barbie can use the harvested plants to feed the animals.
︎︎︎ She can also use it for baking a cake for herself or friends!
AR Prototype

︎︎︎ In the future, children will be able to experience AR interaction by wearing smart glasses.
Dreamhouse Layout

︎︎︎ It is a Tiny House, but Children can still expand it as big as they want by placing the garden pieces. They can put the garden pieces anywhere near the house to cultivate vegetables, flowers, and jewels.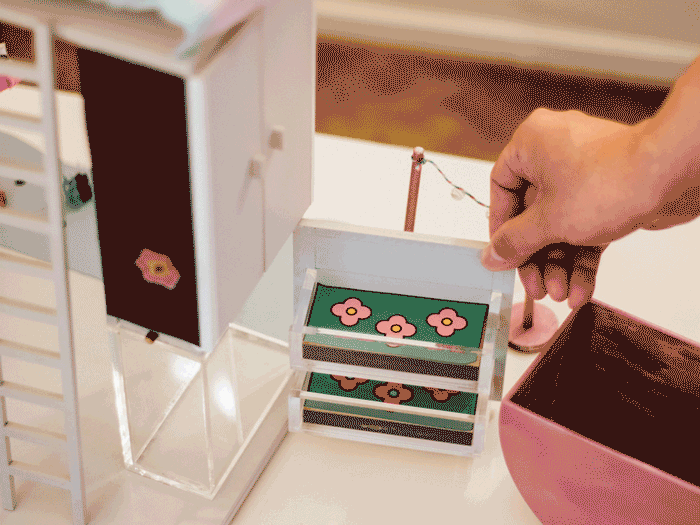 ︎︎︎ Plants inside the greenhouse grow more quickly and efficiently regardless of the weather, so children can play with these plants while waiting for others to grow in the garden.
︎︎︎ The house is 360 degrees rotatable so that children can play without limits.
︎︎︎ The bed can easily turn into a sofa and table. Children enjoyed this type of transformation.
Outcome


After multiple presentations, discussions, and refinements based on the Mattel team's feedback, I could finally complete my prototype. I made my final presentation in front of the Mattel Barbie team and received great feedback from them.

"AR Barbie Dreamhouse ticks all the boxes. It has full play: you have the house; you have the accessories; you can play even if you're not connected: you have the dolls. Then, with the connection, you have the digital play, which resembles coding, so you have a learning aspect even though you don't talk about it." - Arnaud Kerviche, Director of Global Brand Marketing
︎︎︎︎Research Process︎︎︎︎
What Users Want
✦ Parent
"I
want
my children to develop their creativity throughout playing."
What was Mattel's Request?

The play–pattern has to be

non–linear

. (an open narrative)
The play–pattern must

revolve around Barbie

even though the project focuses on the Dreamhouse.
The Dreamhouse should not be too small as it represents Mattel's iconic product.
The theme has to

be innovative

. It has to be different from existing products in the market. For example, there are already Barbies with various careers and body sizes to eliminate gender stereotypes.
Children's Play Pattern Observation

Inefficient Use Of Space
The
children could play only in front of the dollhouse
mainly because a wall blocked the back of the dollhouse. It seemed uncomfortable and inconvenient when more than two children wanted to play together.
Interior Affects Play Narrative

Children were
attached to interactive furniture, and it quickly became the center of attention in their play narratives
.
For instance, having a refrigerator that can be opened and an oven with switch lights translated children's play narrative to be focused around baking.
My Forecast Of 2022

Tiny House, Slow & Self-Sufficient Life
I have noticed from my research that people tend to be happier when they have more freedom and more control over their lives.

Living in a nature-inspired tiny house satisfies these needs by allowing people to focus more of their time and energy on the outdoor environment rather than on materialistic values. They spent more time in their gardens or farms and more time exploring nature. This lifestyle provides a larger level of freedom.
Rise of Augmented Reality

I forecasted augmented reality would begin to permeate our daily lives and rise as the industry's leading channel of interaction as we learn new ways to innovate on these systems.

<VR And AR Headsets To Hit 80 Million By 2021, Sep 2017>
https://www.forbes.com/sites/paullamkin/2017/09/29/vr-and-ar-headsets-to-hit-80-million-by-2021/#65fd9a6224bc

<Apple Aims to Take Augmented Reality Mainstream, Sep 2017>
https://www.wsj.com/articles/apple-aims-to-take-augmented-reality-mainstream-1504876464

<AR/VR Is Fourth Wave of Technology: Digi-Capital Founder, Nov 2016>
https://www.bloomberg.com/news/videos/2016-11-17/ar-vr-is-fourth-wave-of-technology-digi-capital-founder

︎︎︎︎Building Process︎︎︎︎